'Needed: A heart for kids'

"The need just continues to grow. We know that kids who have CASAs are more likely to get needed services happening quickly and more often. Kids with CASAs have an advocate, someone in their corner."
Orientation sessions for potential new CASAs are held from noon to 1 p.m. every Thursday, and the next CASA training session for recruits is scheduled for January. Spivak said she has 20 registrations confirmed for her January training and hopes to add another 10 people. The training sessions, which last about three weeks, provide 30 hours of necessary learning to prepare CASAs to advocate for kids in need.
Spivak said the 28-year-old agency is in awe of the dedication of CASAs who serve so many children.
Being there for children in need was what prompted Ashland resident Susan Miller to become a CASA two years ago. Miller said her work as a CASA has given her a glimpse into the struggles children face when they're in "the system."
Miller, who serves as a CASA for six children from four different families, said the most rewarding part of being a CASA is connecting with the children and knowing they have an adult who will offer consistency.
Spivak and Miller said CASAs can come from all walks of life. Duties can involve visiting a child to determine any ongoing issues, advocating for care, interviewing people involved in the child's life or just spending time talking to the child. Miller said her CASA duties can include advocating for medical care or classes in school or simply taking walks or working on puzzles.
"Someone can work full-time and still make a tremendous difference in a child's life," Miller said. "One child, I visit on weekends. Some I have visited while they're in school. Flexibility is amazing with this kind of position. Sometimes what's needed is just to call or text teachers or family or anybody else in their lives to keep up with what's going on in their lives."
Harry Howard, the agency's longest-serving CASA, said he had plenty of reservations when he signed on as the new agency formed some 28 years ago. Nowadays, he can't imagine not serving as a CASA.
In his 70s and an avid horse and motorcycle rider, Howard said there is no "typical" description of who best should serve as a CASA.
"When I joined, I was thinking about doing some kind of volunteer work. I had some court experience with my company. I liked children … but they were asking for a two-year commitment. I thought, 'Do I really want to sign up for two years?' "
Now, Howard said, he more frequently asks himself, "How does someone stop?"
"You have to be a person who is very nonjudgmental and who can be flexible," Spivak said. "Other than that, there is not one typical CASA 'type.' I have CASAs from 21 to 91. Some have college, some have no college. Some have a Ph.D. There are mechanics, homemakers, firemen … CASAs come from all walks of life.
"The bottom line is that a CASA is anybody who has a heart for kids and wants to make a positive difference. CASAs can literally change a child's life path."
For information about becoming a CASA, see www.jacksoncountycasa.org or call 541-734-2272.
— Buffy Pollock is a freelance writer living in Medford. Email her at buffyp76@yahoo.com.
'Harry was always there'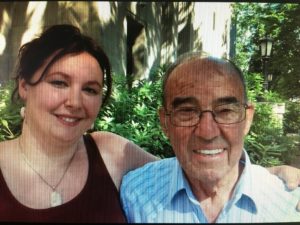 When Genevieve Hummel entered the foster care system at age 2, Court Appointed Special Advocates volunteer Harry Howard was there to watch out for her best interests as she cycled through more than a dozen foster homes.
When she graduated from high school, then from Southern Oregon University, he was at her graduation ceremonies, even though she had aged out of the foster care system. When she gave birth to her son, he was at the hospital.
When Hummel, now 30, became a foster mom and took in a toddler girl to raise alongside her own young son, Howard agreed to be a CASA volunteer for the energetic little girl. The 90-year-old World War II veteran rides a motorcycle and sports a helmet with an Arabian horse painting done by Hummel's husband.
"Harry was consistent. Harry was always there as I moved throughout multiple homes," Hummel said. "It's important having someone you can trust."
This week, the Jackson County Board of Commissioners gave Howard the county's Community Service Award for July in honor of his 27 years as a CASA volunteer. During those decades, he has helped improve the lives of 37 children.
Commissioner Bob Strosser said Howard has been there for the kids as they went through challenging events, including court hearings about their welfare and moves among different foster homes and schools. Many end up in foster care because of abuse and neglect.
Howard said he became a CASA volunteer for a simple reason. "These children don't deserve the hand they were dealt in life," he said. "If we can contribute something to compensate for those things, that's its own reward. It's difficult work, but it can be very rewarding at the same time."
Hummel said Howard always remembers all the people involved in a child's case and how they are interconnected. He will do everything from call a pediatrician to visit a birth parent in jail. "The level of caring and attention he gives to all the details and people is just mind-blowing," she said. "He's done this almost for my whole lifetime. I don't know anybody else with that kind of dedication and commitment."
Hummel said Howard and the other people who work and volunteer for CASA know how hard it is to be a foster kid. She remembers how every time she would move to a new home, her clothes and belongings would be thrown in a large plastic garbage bag. "When everything you own is being tossed in a trash bag, it sends the message that you and your stuff are trash. My clothing would smell like trash bags," Hummel said. "CASA held a fundraiser to get luggage, duffel bags and backpacks for kids. It seems small, but it's not."
Howard said it's a privilege to be a CASA volunteer.
"Children are our most precious commodity, and to see children brought into the world under dysfunctional conditions is heart-rending," he said. "And so it's an honor to be part of a team that tries to make some difference in these children's lives."
CASA Executive Director Jennifer Mylenek said Howard is always calm and balanced as he looks out for the best interests of children as well as their families. She called him an anchor of the CASA program in Jackson County, which was founded in 1990. "I don't know of another CASA program in the state of Oregon that's had a volunteer as long as we've been blessed with Harry," she said. "He's been here 27 years — for as long as the program's actually been in place in Jackson County."
Mylenek said CASA of Jackson County is a nonprofit organization with about 175-180 volunteers. "We need at least 100 more volunteers," she said. "There are a lot of kids waiting for somebody like Harry or any one of our other volunteers. There are about 500 children on our waiting list."
Volunteers, who have varied educational backgrounds and life experiences, research the background of each assigned case and make recommendations in court about the child's best interests. They also make sure kids get needed services, such as health care, therapy or special education.
Their ultimate goal is to get a child into a safe home — a challenging task given Jackson County's shortage of foster parents.
Hummel said people who can't become foster parents can still help kids by becoming CASA volunteers. "It's a great opportunity and option for people who can't take a kid into their home," she said.
CASA of Jackson County holds orientations for prospective volunteers every Thursday from noon to 1 p.m. at its office at 613 Market St., Medford. People who decide to become volunteers attend 30 hours of training. The training is scheduled four times per year, with the summer session of classes beginning July 6. Fall sessions start Oct. 2.
— Reach staff reporter Vickie Aldous at 541-776-4486