Volunteer kept helping even after her home burned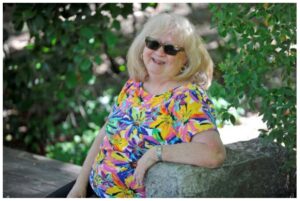 Katy Fox kept volunteering to help abused and neglected kids even after her Talent neighborhood was leveled by fire.
"All the houses burned to the ground. The only thing standing is the pool and the mailboxes," she said.
Fox lost her home and personal belongings to the Almeda fire in September 2020. But she still volunteers for Court Appointed Special Advocates of Jackson County.
In honor of her service, Jackson County commissioners named Fox the recipient of the county's community service award for April.
"I was deeply honored that CASA nominated me and the commissioners selected me. I was surprised and stunned. I was blown over. I never expected it," she said. "There are a lot of people doing wonderful things in the valley."
CASAs go through training, then get to know kids who've suffered abuse and neglect, plus the people in those kids' lives. They advocate for the best interests of children and make recommendations to judges about their futures. The youngsters can range in age from babies to 21.
Fox has been a CASA volunteer since 2015. She usually handles the cases of four to six kids at a time. Her one concession to the impacts of the fire was to taper down to one child while she works to put her own life back together.
She's currently living in Ashland.
"In my mind, children are among the most vulnerable and are particularly dependent on adults to nurture and care for them. Seeing a child that is neglected or abused hurts my heart," Fox said.
CASA volunteers are supported by a staff of CASA workers. Staff members said Fox is always one of the first to step forward on a difficult case, and she serves as a mentor for new CASA volunteers.
Fox said people who want to become CASAs don't have to have backgrounds in child-oriented careers like teaching. Before she retired, Fox worked in the business world on tasks like team development, leadership development and conflict resolution.
"You just have to have a passion for children and really care about children," she said. "It's not always easy work. You have to care about and advocate actively for the child or children you're a CASA to. It's a wonderfully rewarding job when you see children reunite with their family or get guardianship with an aunt or a grandparent or someone else until the parents can safely parent their children."
CASAs not only research the needs of kids, they find out what help and services would help the whole family. Children with a CASA spend an average of 10 months less time in foster care, according to CASA of Jackson County.
According to estimates, more than 800 children in Jackson County are abused and/or neglected each year.
"I need to make a difference, and this is how I've decided to do it," Fox said.
For more information, call 541-734-2271 or visit jacksoncountycasa.org.
Reach Mail Tribune reporter Vickie Aldous at 541-776-4486 or valdous@rosebudmedia.com. Follow her on Twitter @VickieAldous.
Average people help abused and neglected kids

Peggy Ting was looking for a challenging volunteer opportunity.
CASAs talk to children who've been removed from their homes due to abuse or neglect, gather information about their lives and advocate for their best interests in court.
"I've always been passionate about working with kids, but my job was not related to kids at all," said Ting, who worked in human resources.
The Medford resident left her job and is now a full-time student working on a Master's degree in social work. She continues to volunteer as a CASA while also serving as an intern with Court Appointed Special Advocates of Jackson County.
"It's actually been more rewarding than I expected," Ting said. "I went in wanting a volunteer experience and my career changed."
Ting is part of a cadre of 224 CASAs who helped 724 local children last year.
CASA of Jackson County is gaining ground on the number of volunteers it has and the kids it helps. But 235 children are currently waiting for a CASA, according to Wenonoa Spivak, deputy director of the nonprofit organization.
The youngsters range in age from babies up to 21-year-olds. Most are younger than 12.
Intensive training for the next batch of new CASA volunteers kicks off on Feb. 4.
But anyone can drop in for short information sessions that take place from noon to 1 p.m. every Thursday at CASA of Jackson County, 409 N. Front St., Medford.
Ting, Eric Stahlman of Ashland and Lilia Caballero of Medford are just a few CASAs who are spreading the word about the need for more volunteers.
"I tell all my friends about it," said Stahlman, a school administrator and father. "Being a CASA makes me much more hopeful. There's a chance we could make the world a better place. This is a way to actually do it — versus just hoping. It has an impact and you see it."
Stahlman said he identifies with the Grinch. In the animated Christmas special, the Grinch's heart "grew three sizes that day" when he decided to return the presents he stole from the residents of Whoville.
Until he became a CASA, Stahlman said he didn't realize his heart needed to grow. He now has more compassion and understanding for kids and parents struggling in the community.
Caballero works full-time as a cultural outreach liaison for the Medford Police Department and also serves on the Medford School Board. Born in Mexico, she speaks both Spanish and English.
"The idea of becoming a CASA was always in the back of my mind because of the need," she said.
But it wasn't until a CASA volunteer started attending the monthly meetings of the local Latinx Interagency Network Committee that Caballero decided to take the plunge. She learned CASA of Jackson County is trying to recruit a broad cross-section of volunteers to better reflect the community.
Caballero makes regular pitches at the Latino group's meetings for more people to become CASAs. At least two so far have followed her lead.
"At meetings I say, 'I know I sound like a broken record. But think of how lucky we are to live in this beautiful community. It's time for us to give back. We all can volunteer,'" she said.
CASA of Jackson County allows married couples and pairs of friends to be co-CASAs for a child.
Learning to listen
Caballero, Ting and Stahlman said the most challenging hurdle to becoming a CASA is the initial 30 hours of training all new volunteers receive. But putting in the time prepares CASAs for the task ahead.
For this winter's training period, eight sessions are spread out from Feb. 4-21, with most sessions lasting three hours.
"Immersion works well for lots of people, and that's what it is — especially if you're not familiar with social work, which I'm not. This is new to me," said Stahlman, who started as a CASA in September 2019.
Ting said volunteers don't have to remember every single thing they learn in training. In fact, asking questions and knowing when to get help make people better CASAs. Staff members and other volunteers are there to offer guidance.
After training, the time commitment drops off. It can vary from a few hours per month for a child in a stable living situation to 10 hours or more.
Being a good listener is an important attribute for CASAs.
"You're interviewing kids in a very gentle way," Stahlman said. "You're talking and playing and drawing. You're hanging out with them to find out how they're doing, then advocating for them."
Volunteers talk with the biological family, foster parents, teachers, doctors, social workers and others who can shed light on a child's needs and situation.
Ting said CASAs learn to put their own biases and preconceived notions aside, especially when dealing with parents who've abused and neglected their kids. CASAs are trained to look for parents' strengths, not just notice their faults. Many struggle with addiction, mental illness and criminal records.
Ting said she's seen many parents suffering from addiction who still are loving toward their kids.
"In spite of challenges, they still manage to navigate the system. They go to addiction treatment and take parenting classes," Ting said. "To have your child taken away and a horde of strangers asking different things of you is not easy. A lot of these parents do it because they love their kids."
Most kids served by CASA are eventually reunited with their parents, while others are adopted or find legal guardians.
Children with a CASA spend an average of 10 fewer months in foster care compared to kids without an advocate. They are more likely to be placed in a safe, nurturing and permanent home, according to CASA of Jackson County.
Overcoming fears
Some people who consider volunteering hesitate because they fear something could go terribly wrong for a child. What if they miss something, or make a placement recommendation and a child is harmed?
Ting said CASAs are trained to thoroughly research a child's situation — but also to realize no one can know or predict everything.
"That's something we talk a lot about in training. It's about using the information we have to make the best recommendation we can. Our information will never be perfect," she said.
Stahlman said the system of checks and balances that includes child welfare workers, attorneys and judges means all the weight of a case is not on a CASA's shoulders.
Another intimidating thought for incoming CASAs is the idea of presenting their findings about a child's situation to a judge in a courtroom.
"I never thought I could speak in a court setting. It's daunting for sure," Ting said. "It can be intimidating if you don't have experience with a legal setting or public speaking. But when it comes to the CASA's role, there's so much behind-the-scenes work. By the time you're at a hearing, you've done your homework."
She said judges are always respectful and encouraging toward CASAs.
"When a judge asks you to speak, you know a lot about the case. That prepares you to speak about something you're familiar with. Judges really, really do care about what CASAs have to say," Ting said.
Stahlman said he has been impressed by the professionalism and teamwork of those in the system, from lawyers and judges to child welfare workers to the CASA organization.
As for how the kids themselves react to getting a CASA, Ting said that varies. Some instantly open up to their CASAs, while others — especially teens from troubled homes who've been through multiple foster placements — are justifiably wary of adults. Sometimes a CASA becomes the most consistent adult in a child's life.
"I've definitely had a range of reactions, but I've never had a kid who didn't eventually warm up," Ting said.
Stahlman said being a CASA has made his life richer and more rewarding.
"Before I became a CASA, I was given advice that if you need a change in direction in your life, finding something to volunteer for can shift it," he said. "I needed a little something different to change in my world and make it better."
Learning how to help the most vulnerable kids in society has been intriguing, exciting and fulfilling. The biggest surprise has been the level of caring CASA volunteers and staff members bring to the task, Stahlman said.
"I'm involving myself in a caring community that I didn't even know was there. I'm involved with people who are making the world a better place. It's been a great experience," he said.
For more information about becoming a CASA, call 541-734-2272 or visit jacksoncountycasa.org.
Reach Mail Tribune reporter Vickie Aldous at 541-776-4486 or valdous@rosebudmedia.com. Follow her on Twitter @VickieAldous.
Because she works full-time and serves on the school board, Caballero has teamed up with fellow CASA Laura Wilson to share the workload for one child's case. Wilson is a CASA for several other kids.
Medford police give Santa a helping hand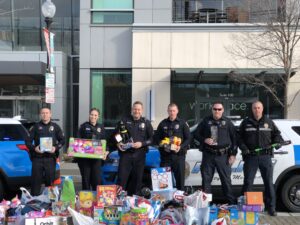 Santa has his sleigh, but Medford police officers have their patrol cars to carry toys for kids.
Police and Lithia Motors workers carried armloads of donated presents Monday out of the company's headquarters in downtown Medford.
They stuffed a line of patrol SUVs and a police car with new toys, clothing and gifts cards. The convoy of vehicles delivered the presents to Court Appointed Special Advocates of Jackson County, a nonprofit group that uses a cadre of volunteers to advocate for abused and neglected kids in court.
CASA will give the gifts to kids living in foster care or with relatives, and to those newly reunited with one or both parents.
Police who respond to calls about abuse and neglect see firsthand the toll on kids.
"We like to stay deeply involved with the community because sometimes we're the eyes that see things that nobody else sees," Medford police Sgt. Mark Cromwell said. "So this is important to us because some people forget that there's children that don't have anything at Christmas. Their lives are not as good as everyone else's. We see that and it's important to make sure that these little people in our community are happy at Christmastime."
Lithia Motors workers have been buying presents for the CASA Giving Tree campaign for seven years, said Meghann Erickson, Lithia Community Relations Coordinator.
This year, almost 100 locations in the Rogue Valley have trees with tags listing presents that would make a child's life brighter this Christmas season.
Erickson said Lithia employees are so eager to take part many start asking about the tags in October.
The Lithia headquarters building is one of the top locations when it comes to how many gifts workers stockpile for kids, said CASA Executive Director Jennifer Mylenek.
"Lithia employees are very generous," she said.
With so much need across the Rogue Valley, Mylenek said the Giving Tree Program got off to a slow start this year.
Additionally, there are only 26 days between Thanksgiving and Christmas this year — six days fewer than in 2018.
Even with the shorter shopping season, Lithia workers crammed a Mini Cooper to overflowing with presents. The car is stationed in the building lobby near a towering Christmas tree.
"It is always incredible. I think every year we come down kind of surprised by how many gifts there are," Mylenek said.
Medford police not only ferried presents for the Giving Tree Program, they're among the many community members who pitched in to buy gifts.
"The kids are our future. And some of the situations that they have no control over actually deeply affect them for a long period of time in their lives. And sometimes they never get over it," Cromwell said. "And CASA and Lithia coming together with us, it's a great way for us to make sure that we're caring for people who can't take care of themselves — and bringing maybe a little bit of holiday spirit for them."
He encouraged everyone to look around the community and consider making a donation to a worthy cause.
"Whether it's a package for a kid or money for a charity, just remember, there's a lot of people in our community that are less fortunate than us. Medford PD, as much as anybody, recognizes and sees that on a daily basis. So I would encourage anybody that has an extra little something to give during the holiday season to please do so," he said.
Local residents can also give the gift of time.
CASA of Jackson County volunteers expect to help about 768 abused and neglected kids navigate the court system this year. But about 200 children are on the group's waiting list, Mylenek said.
"We need more volunteers. That's what makes our work happen is these amazing people in the community," she said.
CASA volunteers gather information about children's cases and advocate for their best interests in court. They help kids move as quickly and effectively through the system as possible and into a safe, permanent home.
For more information about becoming a CASA volunteer or Giving Tree locations, call 541-734-2272 or visit jacksoncountycasa.org.
Giving Trees can be found in Medford, Phoenix, Talent, Ashland, Central Point, White City, Shady Cove, Jacksonville, Eagle Point, White City and Grants Pass.
Reach Mail Tribune reporter Vickie Aldous at 541-776-4486 or valdous@rosebudmedia.com. Follow her on Twitter @VickieAldous.
Needed: A heart for kids

"The need just continues to grow. We know that kids who have CASAs are more likely to get needed services happening quickly and more often. Kids with CASAs have an advocate, someone in their corner."
Orientation sessions for potential new CASAs are held from noon to 1 p.m. every Thursday, and the next CASA training session for recruits is scheduled for January. Spivak said she has 20 registrations confirmed for her January training and hopes to add another 10 people. The training sessions, which last about three weeks, provide 30 hours of necessary learning to prepare CASAs to advocate for kids in need.
Spivak said the 28-year-old agency is in awe of the dedication of CASAs who serve so many children.
Being there for children in need was what prompted Ashland resident Susan Miller to become a CASA two years ago. Miller said her work as a CASA has given her a glimpse into the struggles children face when they're in "the system."
Miller, who serves as a CASA for six children from four different families, said the most rewarding part of being a CASA is connecting with the children and knowing they have an adult who will offer consistency.
Spivak and Miller said CASAs can come from all walks of life. Duties can involve visiting a child to determine any ongoing issues, advocating for care, interviewing people involved in the child's life or just spending time talking to the child. Miller said her CASA duties can include advocating for medical care or classes in school or simply taking walks or working on puzzles.
"Someone can work full-time and still make a tremendous difference in a child's life," Miller said. "One child, I visit on weekends. Some I have visited while they're in school. Flexibility is amazing with this kind of position. Sometimes what's needed is just to call or text teachers or family or anybody else in their lives to keep up with what's going on in their lives."
Harry Howard, the agency's longest-serving CASA, said he had plenty of reservations when he signed on as the new agency formed some 28 years ago. Nowadays, he can't imagine not serving as a CASA.
In his 70s and an avid horse and motorcycle rider, Howard said there is no "typical" description of who best should serve as a CASA.
"When I joined, I was thinking about doing some kind of volunteer work. I had some court experience with my company. I liked children… but they were asking for a two-year commitment. I thought, 'Do I really want to sign up for two years?' "
Now, Howard said, he more frequently asks himself, "How does someone stop?"
"You have to be a person who is very nonjudgmental and who can be flexible," Spivak said. "Other than that, there is not one typical CASA 'type.' I have CASAs from 21 to 91. Some have college, some have no college. Some have a Ph.D. There are mechanics, homemakers, firemen… CASAs come from all walks of life.
"The bottom line is that a CASA is anybody who has a heart for kids and wants to make a positive difference. CASAs can literally change a child's life path."
For information about becoming a CASA, see www.jacksoncountycasa.org or call 541-734-2272.
— Buffy Pollock is a freelance writer living in Medford. Email her at buffyp76@yahoo.com.
Harry was always there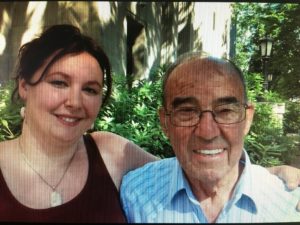 When Genevieve Hummel entered the foster care system at age 2, Court Appointed Special Advocates volunteer Harry Howard was there to watch out for her best interests as she cycled through more than a dozen foster homes.
When she graduated from high school, then from Southern Oregon University, he was at her graduation ceremonies, even though she had aged out of the foster care system. When she gave birth to her son, he was at the hospital.
When Hummel, now 30, became a foster mom and took in a toddler girl to raise alongside her own young son, Howard agreed to be a CASA volunteer for the energetic little girl. The 90-year-old World War II veteran rides a motorcycle and sports a helmet with an Arabian horse painting done by Hummel's husband.
"Harry was consistent. Harry was always there as I moved throughout multiple homes," Hummel said. "It's important having someone you can trust."
This week, the Jackson County Board of Commissioners gave Howard the county's Community Service Award for July in honor of his 27 years as a CASA volunteer. During those decades, he has helped improve the lives of 37 children.
Commissioner Bob Strosser said Howard has been there for the kids as they went through challenging events, including court hearings about their welfare and moves among different foster homes and schools. Many end up in foster care because of abuse and neglect.
Howard said he became a CASA volunteer for a simple reason. "These children don't deserve the hand they were dealt in life," he said. "If we can contribute something to compensate for those things, that's its own reward. It's difficult work, but it can be very rewarding at the same time."
Although she was just a toddler at the time and doesn't remember their first meeting, Hummel said for as long as she can remember, Howard has shown that he cares personally about her. As she cycled through caseworkers and foster families, he always kept up on the details of her life and offered encouragement. "He always remembered things," she said. "When I ran cross-country in high school, he would ask, 'What time did you get?' I didn't have to remind him that I had had a meet."
Hummel said Howard always remembers all the people involved in a child's case and how they are interconnected. He will do everything from call a pediatrician to visit a birth parent in jail. "The level of caring and attention he gives to all the details and people is just mind-blowing," she said. "He's done this almost for my whole lifetime. I don't know anybody else with that kind of dedication and commitment."
Hummel said Howard and the other people who work and volunteer for CASA know how hard it is to be a foster kid. She remembers how every time she would move to a new home, her clothes and belongings would be thrown in a large plastic garbage bag. "When everything you own is being tossed in a trash bag, it sends the message that you and your stuff are trash. My clothing would smell like trash bags," Hummel said. "CASA held a fundraiser to get luggage, duffel bags and backpacks for kids. It seems small, but it's not."
Howard said it's a privilege to be a CASA volunteer. "Children are our most precious commodity, and to see children brought into the world under dysfunctional conditions is heart-rending," he said. "And so it's an honor to be part of a team that tries to make some difference in these children's lives."
CASA Executive Director Jennifer Mylenek said Howard is always calm and balanced as he looks out for the best interests of children as well as their families. She called him an anchor of the CASA program in Jackson County, which was founded in 1990. "I don't know of another CASA program in the state of Oregon that's had a volunteer as long as we've been blessed with Harry," she said. "He's been here 27 years — for as long as the program's actually been in place in Jackson County."
Mylenek said CASA of Jackson County is a nonprofit organization with about 175-180 volunteers. "We need at least 100 more volunteers," she said. "There are a lot of kids waiting for somebody like Harry or any one of our other volunteers. There are about 500 children on our waiting list."
Volunteers, who have varied educational backgrounds and life experiences, research the background of each assigned case and make recommendations in court about the child's best interests. They also make sure kids get needed services, such as health care, therapy or special education.
Their ultimate goal is to get a child into a safe home — a challenging task given Jackson County's shortage of foster parents.
Hummel said people who can't become foster parents can still help kids by becoming CASA volunteers. "It's a great opportunity and option for people who can't take a kid into their home," she said.
CASA of Jackson County holds orientations for prospective volunteers every Thursday from noon to 1 p.m. at its office at 613 Market St., Medford. People who decide to become volunteers attend 30 hours of training. The training is scheduled four times per year, with the summer session of classes beginning July 6. Fall sessions start Oct. 2.
— Reach staff reporter Vickie Aldous at 541-776-4486