NEWSROOM
THE SHEFRIN COMPANY

Public Relations

1440 Fielder St., Ashland, OR 97520
November 20, 2017
CASA OF JACKSON COUNTY TRULY BENEFITS FROM ASHLAND ELKS' "MOTOWN GET DOWN" DANCE PARTY.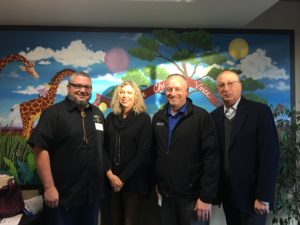 Pictured during the check presentation on November 14
are (l to r.) Elks Lodge 944 member-volunteer Russell Anticona,
CASA Executive Director Jennifer Mylenek, CASA Board President Erik Carlson
and Lodge 944 Public Relations Chairman Paul Shefrin.
It was a fun night for a great cause at the Ashland Elks Lodge… the night of the "Motown Get Down" dance party benefitting CASA of Jackson County, Court Appointed Special Advocates for Children. A sold out house danced the night away as the Danielle Kelly Soul Project performed with CASA of Jackson County receiving almost $3,400 from the Elks following the event.
The Ashland Elks Lodge, founded in 1908, is a local non-profit powered by member-volunteers looking to make a difference locally. The Ashland Elks have a drug awareness program, award student scholarships, and provide social assistance through funds and grants for veterans and youth in distress. Elks member-volunteer Russell Anticona stated, "Elks members live life by the golden rule and contribute to the lives and well-being of those around them. CASA is the voice of the many abused and neglected children here in Jackson County as they wind their way through the dependency court process. This fundraiser for CASA was a partnership that was created to raise public awareness of both local non-profits that are making a difference here in our communities."
Jennifer Mylenek, Executive Director of CASA of Jackson County, noted, "CASA works with 190+ CASA volunteers, the courts, child welfare and others to improve children's lives and outcomes every day. At the same time, we are constantly searching for ways to fund the work of reaching 650 children annually. The Ashland Elks gave us a valuable gift by hosting the Motown Get Down Party to benefit CASA of Jackson County. The funds from that event will go directly to providing three abused or neglected children with a CASA for a full year. Those are three children from our waiting list of over 450 who will have someone to walk beside them, mentor them, speak for them, and ensure they find safe permanent placement and do not suffer re-abuse. We are thrilled and honored that the Ashland Elks chose CASA as the beneficiary of this event."
CASA of Jackson County, founded in 1990, is a non-profit organization that serves the Southern Oregon community through advocating for children's welfare. CASA volunteers are well-trained, everyday citizens appointed by judges to advocate for the safety and well-being of children who have come under the care of Child Welfare due to parental abuse and/or neglect. CASA volunteers speak up for these children and focus on the need for a nurturing, safe and permanent home.
The Benevolent and Protective Order of Elks (BPOE) is a charitable service order founded in 1868 and dedicated to helping veterans and youth through its various charitable programs. With almost a million members, both men and women, it is one of the largest fraternal organizations in the nation.

My mentor and friend, Hadley Nesbitt, passed away suddenly but peacefully last week. He spearheaded the forming of CASA of Jackson County as a nonprofit beginning in 2000 and ending in 2003. He served as CASA's board president for the first few years, leading the organization through the early stages of formation. He hired me in 2006 and lent me his unwavering support and encouragement during his tenure and beyond. Hadley's wife, Erna Nesbitt, served as a CASA for more tha
n 15 years before passing away in 2013. Joan, his current wife, and several children survive him.
Hadley's most notable attributes were his intelligence, genteelism, enthusiasm, kind nature, and his innate love of life. He enjoyed reading detective novels, many of which he shared with me, hiking, traveling, and spending time with his wonderful family and friends. I miss him already and hope I have imparted to you a bit of the value that he brought to this world—although much of who he was cannot be summed up so briefly.
~ Jennifer Mylenek, Executive Director
CASA of Jackson County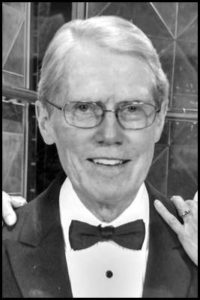 Hadley Nesbitt



December 31, 1936 – September 13, 2017
Hadley Nesbitt passed away unexpectedly but peacefully, Wednesday, September 13, 2017 in his home in Central Point, Oregon. He was born December 31, 1936, in Pittsburgh, Pennsylvania.
His father's career as an Army Corps of Engineers geologist had Hadley spending his childhood in Pennsylvania, Alabama, Ohio, and Virginia, graduating from high school in Alexandria, Virginia in 1954.
At Marietta College in Ohio, where he graduated in 1959 with a math degree, he took a job in that college's admissions office, traveling to distant high schools to interview prospective students. In 1961 he spent six months of active duty in the U. S. Army Reserve, and then took a job as a management trainee at the Marriott Corporation's first hotel, just across the Potomac from Washington, D.C.
He returned to Marietta in 1963 as assistant director of admissions. On a visit to a Cincinnati high school he met Sylvia Traumer, whom he married in 1965. In 1967, after earning a master's degree at Xavier University, he became director of admissions at Coe College in Iowa. His son, Scott was born in Cedar Rapids in 1968.
In 1970 he joined Educational Testing Service in Princeton, New Jersey, where for nearly 20 years he held a variety of technical and managerial positions, among them: managing the College Board's service for assisting colleges with statistical grade prediction; negotiating the merger of two national 11th-grade tests (the PSAT and NMSQT); orienting new employees to the firm; overseeing tours for foreign visitors; and managing multistate programs in financial need analysis for the College Scholarship Service.
Sylvia died of cancer in 1984. A few years later he met Erna Trubee, who resided just across the street from him in Pennington, N.J. Their romance led to their move in 1993 to southern Oregon, where they were drawn by the region's climate and its outdoor and cultural attractions. Within their first few weeks in Medford, both became involved in volunteering.
Hadley produced audiovisual materials for the Jackson County Library capital campaign in 1998, and in 2000 spearheaded the effort to transfer county control of the Court Appointed Special Advocates (CASA) program to a new 501.3 agency, of whose board he was president during its first few years.
Erna, herself a long-time CASA volunteer, passed away in 2013. In 2014 Hadley married Joan McKenzie of Spokane, Washington. In 2016 the couple moved from Medford to the Twin Creeks Retirement Community in Central Point, Oregon. HN was author of Southern Oregon Restaurants, a 1996 collection of restaurant reviews, which won a Benjamin Franklin Award for best self-published book in its category. He was an avid hiker, climbing Mount McLaughlin in 2000 at the age of 63, and again in 2012 when he was 75. While in his late 60s and early 70s, he and his Corgi-mix Daisy, adopted from the Jackson County Animal Shelter, achieved national success in the sport of canine agility, with Daisy earning the distinction of NADAC North American Trial Champion in 2008.
He is survived by a large family that loved and admired him, including son, Scott (wife Mary, daughter Callie); wife, Joan (children Lisa, Anne, and Stuart); and stepsons, John, Jay (wife June, daughters Jillian and McKenzie), Brian (wife Amy, sons Robert and Phillip), Brooks, and Evan (wife Kristen, children Patrick, Cameron, and Holly).
A memorial service will be held at 4 p.m. Wednesday, September 20, 2017 at Twin Creeks Retirement Community, 888 Twin Creeks Crossing, Central Point, OR.
In lieu of flowers, please send memorial contributions to CASA of Jackson County, Inc., 613 Market Street, Medford, OR 97504.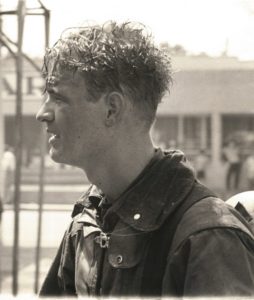 We remember John and his amazing heart for the children in our community. From all of us at CASA, our thoughts are with his family and friends. John was a hero to many.
John Ford, retired Medford Firefighter/Engineer/EMT Basic, passed away at home with loving family on Friday, August 18, 2017. John wasn't much on ceremony for personal recognition and per his request no services will be scheduled. For those who would like to memorialize their acquaintance/friendship with John, please consider a contribution to one or both of John's causes.
CASA: John had a real soft spot for children in trouble due to no fault of their own. Court Appointed Special Advocates places volunteers with children in the court system who advocate on their behalf. He was always taking bikes over to them. CASA 609 W 10th St, Medford, OR 97501 · (541) 523-8215. His wife is not sure they ever knew his name, he was "the guy in the red truck that dropped off bikes."
Medford Senior Center: John was going to help ensure the Center was able to buy and place a 40 ft flagpole, as the one they had was removed due to a hazardous situation. The total to purchase, place, and bore for lighting was just under $5,000. Donations toward this cause can be made to: Medford Senior Center, 510 E. Main Street, Medford OR 97504.

Remembering Jim Harleman
Jim passed away in June doing one of the things he loved best – goin' fishing. Jim was a man devoted to his family, friends, and community. As a community volunteer, Jim was actively involved on the Central Point Parks and Recreation Committee, Rogue Valley Audubon Society, Rogue Flyfishers, and CASA (Court Appointed Special Advocates). In 2016, he was selected as CASA Volunteer of the Year for his work with youth in the foster care system. Jim was deeply involved in his community believing that we must look beyond our own self interests and consider also the needs of the larger community, our country, and the world. He will be missed.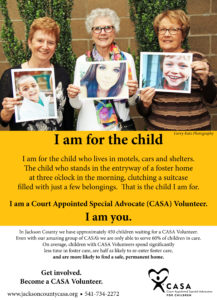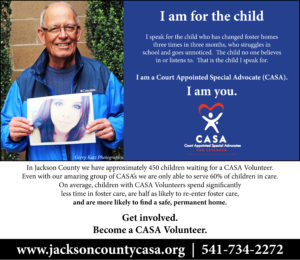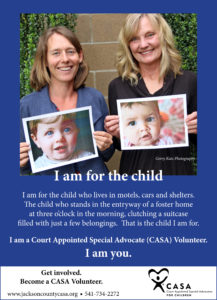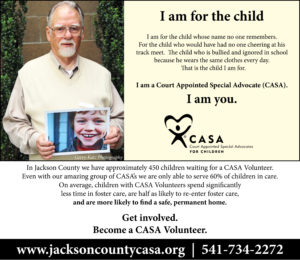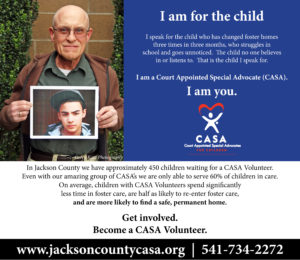 'Harry was always there'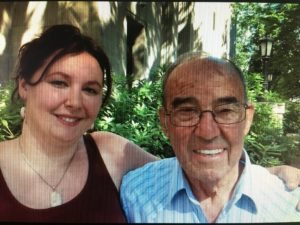 When Genevieve Hummel entered the foster care system at age 2, Court Appointed Special Advocates volunteer Harry Howard was there to watch out for her best interests as she cycled through more than a dozen foster homes.
When she graduated from high school, then from Southern Oregon University, he was at her graduation ceremonies, even though she had aged out of the foster care system. When she gave birth to her son, he was at the hospital.
When Hummel, now 30, became a foster mom and took in a toddler girl to raise alongside her own young son, Howard agreed to be a CASA volunteer for the energetic little girl. The 90-year-old World War II veteran rides a motorcycle and sports a helmet with an Arabian horse painting done by Hummel's husband.
"Harry was consistent. Harry was always there as I moved throughout multiple homes," Hummel said. "It's important having someone you can trust."
This week, the Jackson County Board of Commissioners gave Howard the county's Community Service Award for July in honor of his 27 years as a CASA volunteer. During those decades, he has helped improve the lives of 37 children.
Commissioner Bob Strosser said Howard has been there for the kids as they went through challenging events, including court hearings about their welfare and moves among different foster homes and schools. Many end up in foster care because of abuse and neglect.
Howard said he became a CASA volunteer for a simple reason. "These children don't deserve the hand they were dealt in life," he said. "If we can contribute something to compensate for those things, that's its own reward. It's difficult work, but it can be very rewarding at the same time."
Although she was just a toddler at the time and doesn't remember their first meeting, Hummel said for as long as she can remember, Howard has shown that he cares personally about her. As she cycled through caseworkers and foster families, he always kept up on the details of her life and offered encouragement.
"He always remembered things," she said. "When I ran cross-country in high school, he would ask, 'What time did you get?' I didn't have to remind him that I had had a meet."
Hummel said Howard always remembers all the people involved in a child's case and how they are interconnected. He will do everything from call a pediatrician to visit a birth parent in jail. "The level of caring and attention he gives to all the details and people is just mind-blowing," she said. "He's done this almost for my whole lifetime. I don't know anybody else with that kind of dedication and commitment."
Hummel said Howard and the other people who work and volunteer for CASA know how hard it is to be a foster kid. She remembers how every time she would move to a new home, her clothes and belongings would be thrown in a large plastic garbage bag. "When everything you own is being tossed in a trash bag, it sends the message that you and your stuff are trash. My clothing would smell like trash bags," Hummel said. "CASA held a fundraiser to get luggage, duffel bags and backpacks for kids. It seems small, but it's not."
Howard said it's a privilege to be a CASA volunteer.
"Children are our most precious commodity, and to see children brought into the world under dysfunctional conditions is heart-rending," he said. "And so it's an honor to be part of a team that tries to make some difference in these children's lives."
CASA Executive Director Jennifer Mylenek said Howard is always calm and balanced as he looks out for the best interests of children as well as their families. She called him an anchor of the CASA program in Jackson County, which was founded in 1990. "I don't know of another CASA program in the state of Oregon that's had a volunteer as long as we've been blessed with Harry," she said. "He's been here 27 years — for as long as the program's actually been in place in Jackson County."
Mylenek said CASA of Jackson County is a nonprofit organization with about 175-180 volunteers. "We need at least 100 more volunteers," she said. "There are a lot of kids waiting for somebody like Harry or any one of our other volunteers. There are about 500 children on our waiting list."
Volunteers, who have varied educational backgrounds and life experiences, research the background of each assigned case and make recommendations in court about the child's best interests. They also make sure kids get needed services, such as health care, therapy or special education.
Their ultimate goal is to get a child into a safe home — a challenging task given Jackson County's shortage of foster parents.
Hummel said people who can't become foster parents can still help kids by becoming CASA volunteers. "It's a great opportunity and option for people who can't take a kid into their home," she said.
CASA of Jackson County holds orientations for prospective volunteers every Thursday from noon to 1 p.m. at its office at 613 Market St., Medford. People who decide to become volunteers attend 30 hours of training. The training is scheduled four times per year, with the summer session of classes beginning July 6. Fall sessions start Oct. 2.
— Reach staff reporter Vickie Aldous at 541-776-4486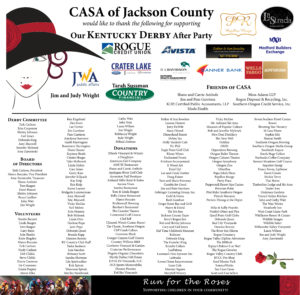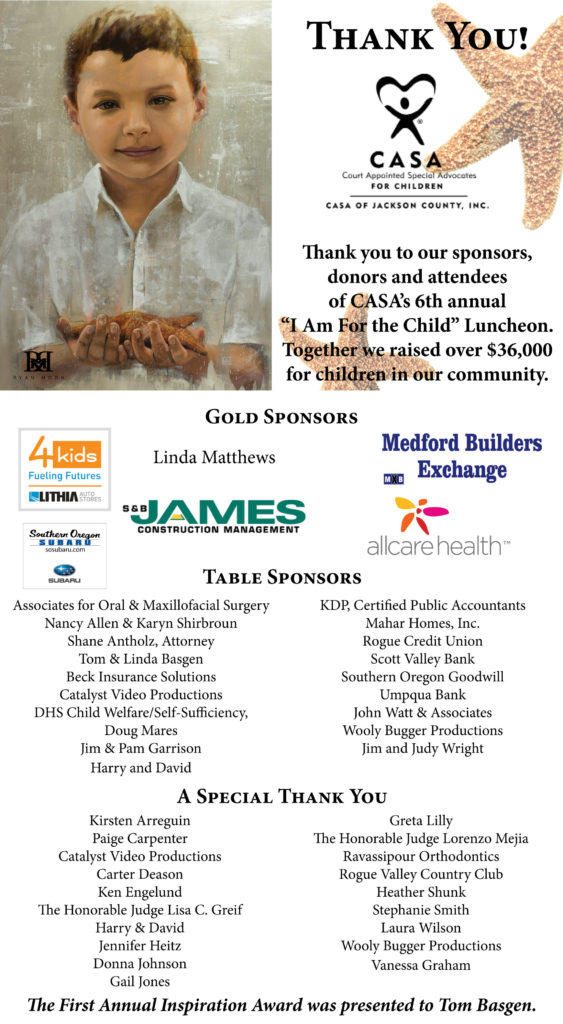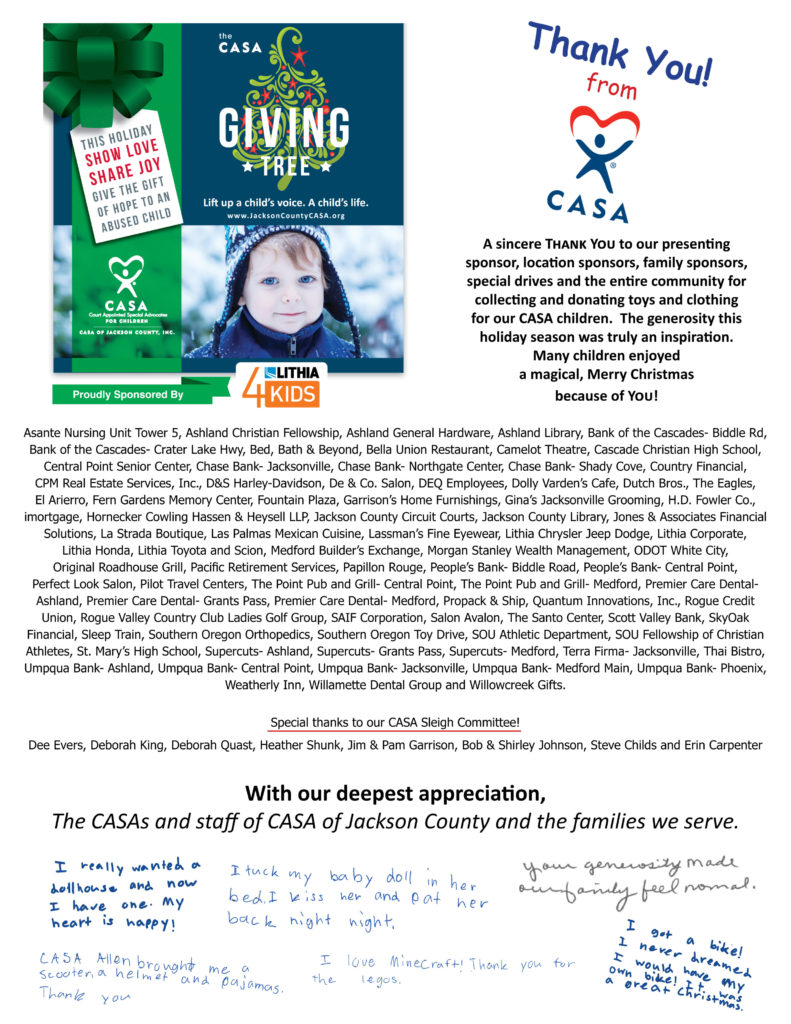 On Veteran's Day, November 11, 2016, we at CASA celebrated our very own Dan Mata as a flag was flown in his honor over the US Capitol.
A special thank you to Jonathan McCollum, Director, Federal Government Relations Group Davidoff Hutcher & Citron LLP and to
Jenny Forrest from Congressman Walden's office for donating their time to photograph Dan's flag for us as a special gift to him.